The Open University is one of the UK's best inventions. It ranks with the NHS and National Parks as a visionary idea that has brought the opportunity to learn and study to anyone, whatever their circumstances. The staff are remarkable, creating inspiring courses designed and taught to demanding standards. Its students are amazing, achieving often against the odds qualifications that transform their lives. I look forward to working with the whole OU community to advance the university's mission and purpose, which are just as pioneering and relevant today as they were 50 years ago.

Professor Tim Blackman
Vice-Chancellor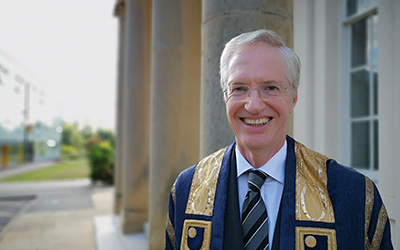 Professor Tim Blackman joined The Open University as Vice-Chancellor in October 2019.
Tim has held senior positions at several universities, including a prior appointment as Pro Vice-Chancellor for Research and Quality at The Open University, and social sciences Deanships at Teesside University and Oxford Brookes University. Most recently, he served as Vice-Chancellor at Middlesex University.
After graduating from Durham University, he spent time as a community worker in Belfast, before returning to hold positions including the Head of the School of Applied Social Sciences, Director of the Wolfson Research Institute and the Dean of the University's campus in Stockton–on–Tees.
Tim is a Fellow of the Academy of Social Sciences and Royal Society of Arts and has held advisory and board appointments throughout his career, including serving as an assessor for Social Policy and Social Work in the 2014 UK Research Excellence Framework (REF) exercise. He has also co-founded charitable enterprises such as Community Technical Aid and the Oxford Dementia Centre.
As Vice-Chancellor, Tim is the chief academic and administrative officer of the University, responsible for providing strategic leadership through his senior executive team, championing the interests of the institution at the highest levels with government, policy makers and funders, and ensuring the long term financial and operational sustainability of the OU.