Partnerships with employers
We work with employers to provide training solutions, fill skill gaps and develop talent. Our courses are designed to encourage reflective learning that students can apply to their own context.
More than 30,000 UK employers, including 80% of FTSE 100 companies, have sponsored staff on OU programmes
We are the largest provider of law graduates in the United Kingdom
We train thousands of nurses, teachers and social workers
Our MBA programme is accredited by the world's top management education associations - AACSB, EQUIS and AMBA
Many OU modules and qualifications carry professional recognition in addition to academic credit. Details are given in our course descriptions. We also offer a choice of 5 foundation degrees, designed in collaboration with employers to provide the intermediate technical and professional skills they demand.
The university has a significant number of links to Professional, Statutory and Regulatory Bodies (PSRBs). PSRB accreditation means that our subject areas and qualifications have been judged to meet professional benchmarks, and that students gain the understanding and knowledge required by employers.
More about partnerships with employers
The Armed Forces
More than 1,200 serving members of the British armed forces and the Merchant Navy are studying with The Open University across the world. Through an agreement between the Ministry of Defence and the OU going back to the early 1970s, a wide range of courses are available, with course materials supplied via the student's BFPO address. OU study centres have been established in Cyprus and Germany. Many have studied while on active service, even in conflict situations.
Career development for the armed forces
Nursing, social work and youth work
The Open University is the UK's largest provider of health and social care education. We train nurses for the NHS through a unique work-based Pre-Registration nursing programme, enabling unqualified health care assistants to train as registered nurses in as little as four years, while continuing to work. Other partnerships include a BSc in Nursing Practice, developed with the Royal College of Nursing.
In social care, we offer a qualifying social work degree in collaboration with employers, and we are the preferred provider of the Foundation Degree in Youth Justice, approved and kitemarked by the Youth Justice Board.
---
Academic partnerships
The Open University collaborates with partners in a number of ways.  The following Register of Collaborative Provision provides a list of all the University's arrangements that fall under its definition of collaborative provision.
Register of collaborative provisions (xls 907kb)
Programme validation
Our programme validation activity supports the OU's mission to widen access to higher education worldwide. We currently validate almost 300 programmes at undergraduate and postgraduate level, and to date over 158000 students have achieved an OU validated award.
OU validation partner institutions are re-approved on a regular basis to ensure that they continue to meet the OU's standards and criteria for teaching, learning and assessment, staffing and staff development, academic organisation and internal quality assurance systems.
More about Open University validation
Social Partnerships Network (SPN)
The OU works with a number of organisations that form the Social Partnerships Network (SPN). All social partners share a firm commitment to widening participation, supporting workplace and lifelong learning and have national scale and reach
The network works collaboratively on a number of areas which include the development of free or low cost sustainable learning opportunities and the identification of innovative approaches to delivering outreach at a national level to encourage and support new learners looking for personal and/or career development. 
OU learning resources
No-one understands how adults learn better than the OU – our materials are so good that two thirds of the UK's 100 biggest universities use them. OU learning resources are available to buy through Open University Worldwide, and for many we can set up licensing arrangements, enabling partners to use them in their own education and training programmes.
Purchasing and licensing OU course materials
---
Arc Universities Group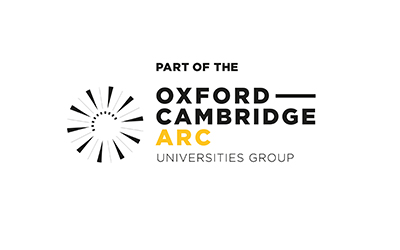 The Arc Universities Group (AUG) is a network of universities between Oxford and Cambridge, formed to foster collaboration, research, skills and innovation to support the economic growth of the Oxford - Cambridge Arc region.
The Open University is one of nine Universities, working together alongside business and government to support growth, inclusivity and resilience across the Oxford-Cambridge Arc.
To find out more, visit: arcuniversities.co.uk
---
Our partnership with the BBC
Our best-known partner, the BBC, has been linked with the OU since a 'University of the Air' was first proposed. Television and radio were the first of many new technologies used to support our students – and they continue to bring education to the widest possible audience of non-formal learners, inspiring viewers and listeners to participate in lifelong learning.
Recent examples include: Britain's Great War, Airport Live, Wartime Farm, Stargazing Live, Coast, An Hour to Save Your Life, Bang Goes the Theory, More or Less, Thinking Allowed and The Bottom Line.
In addition, OpenLearn – the home of free learning from The Open University – includes a wide range of activities and information linked to OU/BBC productions, as well as those co-produced with other broadcasters.
---
Memberships of other organisations
The OU is a member of these organisations:
---
The OU and Unison
We've been partners since 1997, encouraging more public sector workers to take part in education. Over 6,500 UNISON members have studied with the OU.